Access
We are located in Yudanaka Onsen area at the foot of Shiga Highlands.
Other than Shiga Highlands, there are many popular sightseeing spots such as Jigokudani Yaen-koen, Zenkoji Temple, Obuse, and etc. in the region.
By Car

Parking: Parking is free at the ryokan for as long as there is space available.
Please make a request at the time of booking.
By Train

We offer pick-up service from Yudanaka Sta. Please make a reservation in advance.
Sightseeing Information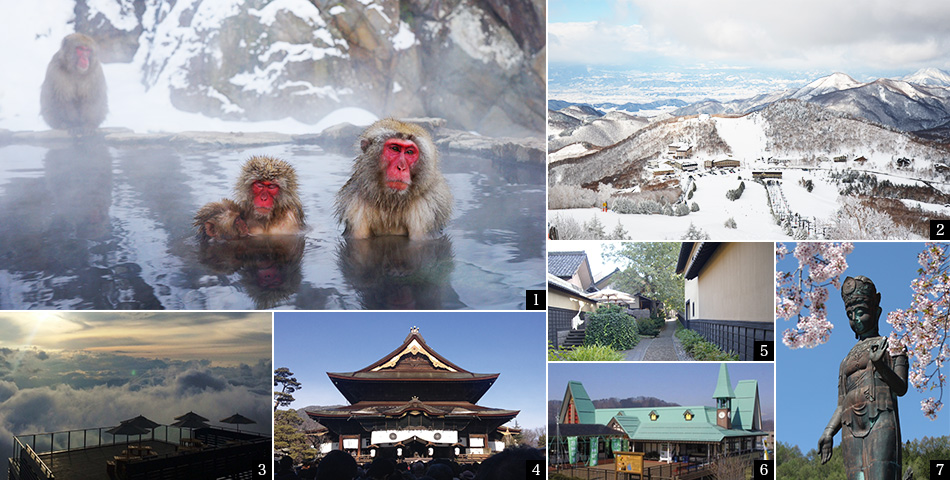 Free shuttles are available from the hotel to Jigokudani Yaen-koen.
We also provide information on many other nearby sightseeing spots.
1. Jigokudani Yaen-koen・・・・

This is a world popular park where wild monkeys, known as "snow monkeys", can be seen taking natural hot spring bath.

2. Shiga Highlands・・・・・・

Shiga Highlands is one of the largest ski resorts in Japan. One can enjoy skiing or snowboarding in the finest powder snow. It is a year-round popular spot where people enjoy trekking in summer and colored leaves in autumn.

3. Kita Shiga Highlands・・・・

Yudanaka Onsen Resort has easy access to ""SORA terrace"", a terrace on the summit opened in 2015. Take the world's largest 166-passenger gondola to the terrace, and you might have the luck to watch the sun setting into the wondrous sea of clouds.

4. Zenkoji Temple・・・・・・

Zenkoji is an old and famous temple that is non-denominational and welcomes people of every faith. There is a saying that one must visit Zenkoji for prayer once in a lifetime. It has a lot of worshipers from all over Japan even today. The street in front of the temple is a very nice place to take a walk.

5. Obuse・・・・・・・・・・

Obuse is a town of ""chestnuts, Hokusai and flowers"". Many works of Hokusai Katsushika, a famous Japanese artist from the late Edo period, are displayed in Hokusai-kan Museum. The town is also famous for chestnuts. Food or sweets made from chestnuts are just delicious.

6. North Shinshu Yamanouchi
 Road Station (Michi-no Eki)

This roadside market sells fresh fruits and vegetables, local sweets, traditional arts and crafts, local sake and other specialties from Yamanouchi area. It is a perfect place to buy souvenirs.

7. Heiwa Kannon Statue・・・

The 25-meter standing Kannon Statue of World Peace in DaihiDen Temple is only a 5-minute walk from our ryokan. It is one of the three biggest Heiwa Kannon statues in Japan, and the tallest Heiwa Kannon bronze statue in the country.